Hey, everyone! WIZnet HK is going to have a new Serial to Ethernet module soon.
This module is called W5500S2E-S1. It is made by WIZnet HK members and it used the latest Hardwired TCP/IP solution W5500 chip as the key section for Ethernet communication.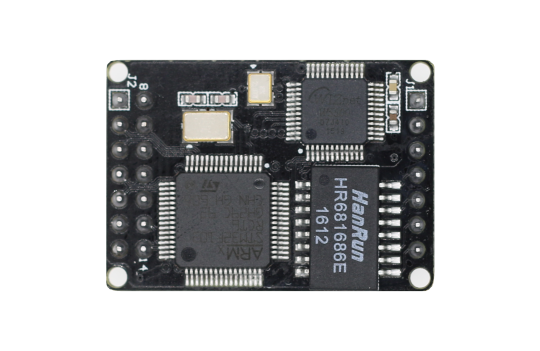 This module is based on WIZnet's best selling Serial to Ethernet solution WIZ100SR to design a similar module in W5500 chip.  Please refer the following features about this module.
Serial to Ethernet Module based on W5500 & Cortex-M3
Transformer mounted, Pin-header type module
10/100Mbps Ethernet
Max.1.152Mbps serial speed
Support TCP/UDP operation modes
Support DHCP, DNS protocols
Support password function for security
Support Webpage configuration,
Configuration tool program & Serial AT command.
Support local and remote firmware upgrade
By comparing with WIZ100SR module, it contains the standard TCP and UDP communication in the latest module. However, it has provides more kinds of method to configure the module that improves the flexibility on using this module.
For this article, we will introduce the three main configuration method of this module.
1. GUI interface in Window OS software – Config tool
This is the most common method for configuring WIZnet's solution. All the serial to Ethernet module will have their own version of configuration tool. However,  all of these module's are having a similar appearance that allows user quickly to get used to it . Thus, W5500S2E-S1 will have its own version of configuration tools as the following figure shows.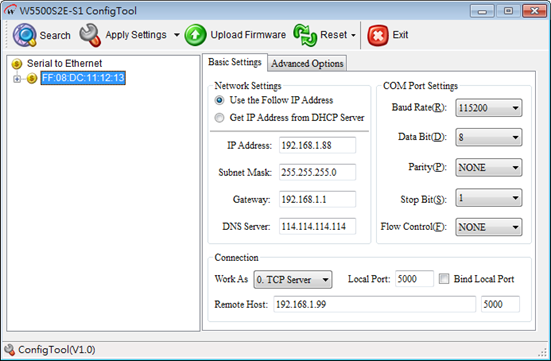 This above is the basic settings for configure the module. It includes serial settings, network settings and communication protocol that you could use to communicate through W5500S2E-S1 module. It also includes Firmware upgrade and factory reset buttons like the other WIZnet's serial to Ethernet products.
As this module is following WIZ100SR, it includes data controlling features for providing a more communication method that could satisfy customer's requirement. These settings are located on the Advanced Options tab that shows as the following figure.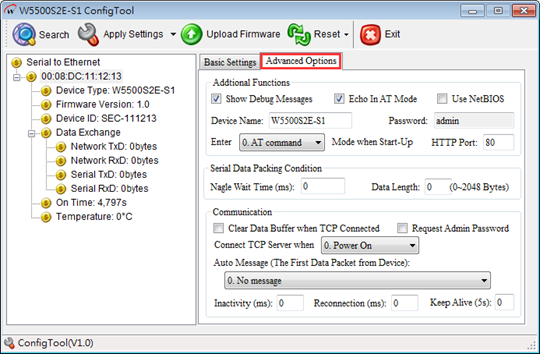 Except the data packaging, it includes communication security and other additional functions that allows user could easily configure the module.
For more information, please go our official website to get our user manual of this W5500S2E-S1 module.
2. Webpage configuration
This module has included a HTTP server for accessing the configuration website to configure W5500S2E-S1 module.
Default information to login into configuration webpage
a) IP address: 192.168.1.88
b) Netbios (Using name to login into webpage): W5500S2E
c) Port number: 80 (It can be changed to other port number)
d) Deafult PW: admin
After you login, it shows as the result as follow.
As the functionality will be totally the same as configuration tools, user could easily base on the information that provided on the website on configure or upgrading Firmware version using this webpage interface.
3. AT command configuration (Serial interface communication)
In the recent days, WIZnet has started to use AT command as their main serial configuration method to configure their modules. This command is simple to use and more user friendly than previous serial configuration methods.
For this type of commands, it requires user to add "AT+" in front of each commands. The list of these commands shows in this module's user manual.
About this serial commands, there are few points that users should know.
1.  In default setting of W5500S2E-S1, it will starts the module in AT command mode.
2. AT (with enter) is checking the terminal is it connected to the module.
3. "+++" (without enter) command will change the module from data mode to AT command mode.
4. AT+EXIT is used for save the AT command settings and the way to exit AT command mode.
The following is an example to create a TCP server connection through AT command.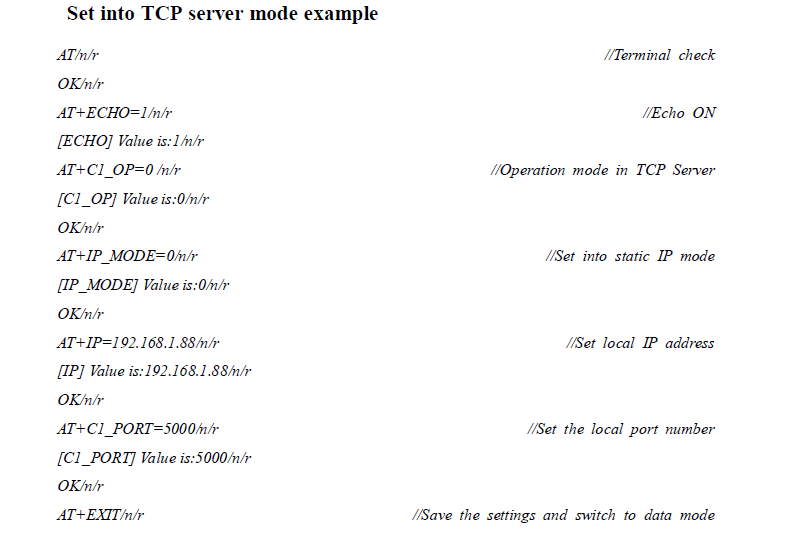 Thank you for reading this article.